Verano's Recipes
Caesar's Salad (with a touch of Verano!)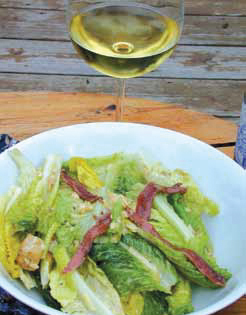 The first known "serving" of Caesar Salad was by Caesar Cardini, an Italian immigrant who opened a Ristorante in San Diego. He then opened another one across the border in Tijuana, Mexico, due to Prohibition. One day Caesar had used most of his lettuce and only had some Romaine left. He served the Romaine lettuce with a vinaigrette dressing on the 4th of July, 1924. That day he added dramatic flair by creating the Caesar Salad table-side by "the Chef" himself. It was a big hit. The earliest written documentation of the recipe was published by the Los Angeles Times in 1946, a full 20 years after it was created.
The first place I tasted Caesar Salad was in Las Vegas at the Conrad Room of the Pink Flamingo Hotel. The waiter insisted that he prepared the original Caesar Salad tableside. It was delicious, and I wanted the recipe. They used an egg blanched in boiling, salted water for 1 minute – enough to kill any infection, such as Salmonella. The egg white serves as an emulsifier to eliminate the sticky consistency of the final dressing. Many restaurants do not use anchovies, but I wanted them and I got them. When I returned home, I had to try it right away, however, the egg was worrisome. So I eliminated the egg and found that if one mixes olive oil and lemon juice together well, the result will be an emulsification close to that produced by the egg. I also added Dijon mustard, which increased the emulsification. Then I added the anchovies and garlic which when mashed together with a fork, integrated very well with the mixture. The rest was history.
*Follow the chronological order of ingredients as listed in my recipe, step by step. The coarseness of the salt and pepper helps to tear down the anchovy and garlic when pressed with a fork on the wooden bowl. My family and I love anchovies and they want several on top of their salad. Sorry, Caesar! I also added garlic croutons, freshly fried, which most people would be happy just salivating over. So I 'Petri-sized' it – My Way – like everything else in this cookbook. A lifetime of notes, written on napkins as I wandered into the kitchens of famous chefs and great cooks. It is all documented here for my family and friends and soon to be lot's of Paesani. Further, I sayeth Not! Tu Verano.
RECIPE
3 whole hearts of romaine lettuce, washed and dried
1/2 cup extra virgin olive oil
4 cloves garlic
2 large slices crusty Italian bread, toasted and cut into 1-inch cubes
4 anchovy fillets
1 teaspoon coarse sea salt
1 teaspoon freshly ground pepper Juice of 1 lemon
2 teaspoons Dijon mustard
1 teaspoon Worcestershire sauce
4 tablespoons imported Parmigiano cheese
1. Wash and dry the lettuce, wrap it in a towel and refrigerate it.
CROUTONS
1. Heat a skillet and pour 1 tablespoon of olive oil in it. Use one of the garlic cloves to season the croutons by chopping it and sprinkling it over the hot oil. Immediately add the croutons and constantly mix in the olive oil and garlic. When they are brown remove to a bowl and discard the garlic.
SALAD
1. In a large wooden salad bowl, combine the remaining garlic cloves, anchovy fillets, coarse sea salt and freshly ground pepper. Use a fork to make a paste, passing the ingredients through the fork and squashing them on the sides of the bowl. You can use a garlic crusher for both the crushing of the garlic and anchovies, but you will still need to make a paste.
2. Add remaining olive oil, lemon juice, mustard and Worcestershire sauce. Mix well with a fork until it appears to have a gel-like consistency.
3. Add the cheese and continue to mix well.
4. Cut the romaine leaves into 2-inch long pieces and add them to the bowl. Add the croutons.
5. Mix the salad well with large wooden spoons and serve on chilled plates. Place anchovies on top of each serving for garnish.
Recipe by Verano / Serves 6 / Preparati on time : 0:25
Suggested wine : Hearty red or even a cold Chardonnay or Pinot Grigio